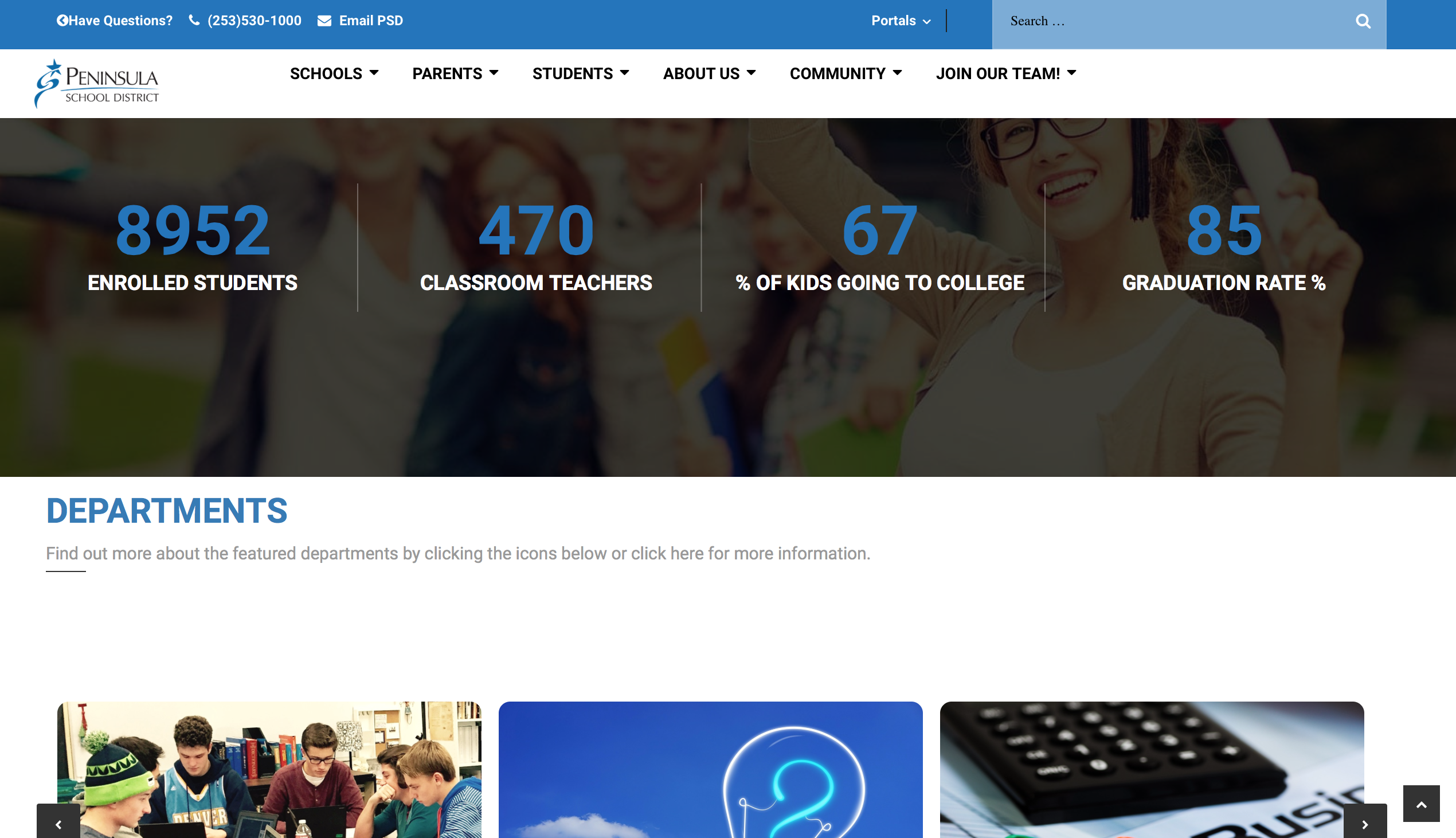 Fox Island is part of the Peninsula School District (PSD), which serves the greater Gig Harbor and Key Peninsula areas.
Quality education is a priority in the PSD:
71% of the district's teachers have master's degrees, several have doctorate degrees.

79% have National Board certification, the highest achievement for teachers.

In 2015, for the second consecutive year, Washington had the largest group of National Board Certified Teachers (NBCTs) in America, including 10 new NBCTs welcomed in

to

the PSD.

Students in Peninsula School District consistently perform in the top 10% in state test results.
According to the district's website, PSD students consistently

receive national and state honors in journalism, science, speech

and

debate,

Knowledge

Bowl, choir, band,

and writing. About 80% of

graduates go on to college or technical training and twice as many receive colle

ge degrees as the state average.

PSD students also consistently score higher than average on state standardized tests as well as SAT reading and math tests.
PSD has eight elementary school options and four middle school options ensuring each child can find a school that fits his or her needs. For older students, there are three district high schools: Gig Harbor, Peninsula, and Henderson Bay (alternative), as well as a full-time, fully accredited online academy. These schools offer a variety of Advanced Placement (AP) course in all core subjects, and college-level courses through Tacoma Community College's Running Start program, in which students may double credit toward both high school and general university requirements. The secondary curriculum is further enriched with a complete range of athletic programs and fine arts options as well as extracurricular programs that challenge and reward students in terms of further intellectual and leadership development.
Seven private schools serve the area as well, including Christian, Catholic, and Montessori, offering education for students from preschool to high school. Homeschooling is another option; families who choose home-based instruction may select their own curriculum or follow a public school curriculum and receive support from the PSD.
Post-secondary education is also available nearby Tacoma Community College (TCC), a nationally recognized institution of higher learning, has a campus in Gig Harbor, as well as a main campus a short distance across the Tacoma Narrows Bridge, in Tacoma. Other options for a postsecondary education close by include Bates Technical College, Clover Park Technical College, Pierce College, University of Puget Sound, Pacific Lutheran University, and the University of Washington Tacoma, a model urban-serving university. All of these fine schools offer accredited programs in a wide variety of advance curricula, are within a 30-minute commute, and enhance the region's business, social, and cultural climate.