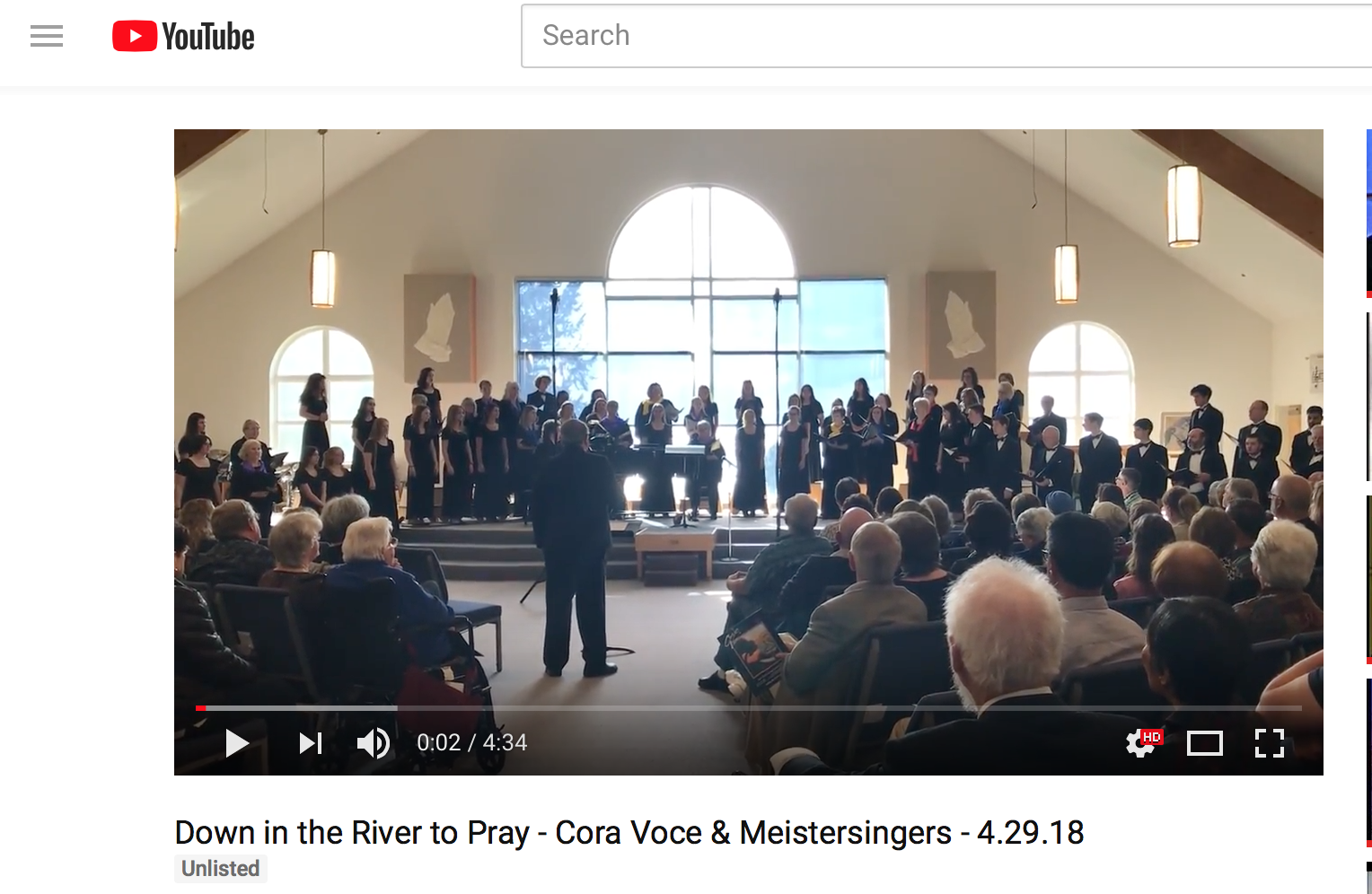 A spring highlight for Fox Island arts aficianados is the annual concert presented by Cora Voce, a Tacoma-based choir that draws performers from all around the Puget Sound (including some Fox Island and Gig Harbor residents). This year's spring concert was extra special as it featured the amazing talent of Gig Harbor High School's Meister Singers and Bella Voce Choirs. GHHS was the 2018 recipient of one of Cora Voce's $6,000 music scholarships.
It was a packed house at the Fox Island United Church of Christ to watch the concert on a sunny afternoon on April 29th. The concert, entitled "Calling My Children Home," featured a delightful collection of American Folk Songs and Spirituals and emphasized the poignant theme of reunion.

The title song of the concert , "Calling My Children Home," is an original piece written in 1978 by Doyle Lawson, Charles Waller, and Robert Yates. American spirituals express a desire to connect with the divine, sometimes through haunting melodies and simple yet profound harmonies. Marc Hafso's arrangement of "Down in the River to Pray" (you may remember this one from the George Clooney movie, "Brother Where Art Thou?"; see it by clicking the link on the photo above) and Norman Luboff's "Deep River" were wonderful examples of this genre presented at the concert.

The choir also premiered a new piece by one of its own choir members, James Scott, "Like Sails Upon the Sea." Mr. Scott, a bass in Cora Voce, is an artist, poet, author and composer who makes his home on Hood Canal.
Cora Voce will be back at Fox Island United Methodist Church of Christ in April 2019, so if you missed it this year, you'll get your chance next spring!
Doug Lawrence is a Fox Island resident and licensed real estate broker with Keller Williams West Sound in Gig Harbor. His wife sings in Cora Voce and he admits that choral music has started to grow on him! Give him a shout if you'd like to learn more about buying, selling, or investing in real estate on Fox Island or anywhere else (or, how to find out about the next Cora Voce concert!).
(c) 2018 Doug Lawrence Real Estate. All Rights Reserved.